Tee hee.
Boredom was bound to ensue in my long hours in the computer lab this fabulous holiday weekend.
And, the product of this boredom?
Two blinkies. With those little pixelated computer dolls.
I didn't conjure the blocks or bodies out of nowhere, but everything else is heavily edited. Shirt from one of them, made from scratch.
What do you think?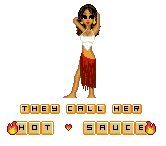 -------
And, since I'm bound to be bored again before the holiday break is up, I thought I'd take requests. If you have one of the computer dolls in mind, or you want me to make a certain type of one (wearing whatever), I would make you a blinkie, then you'd have your own cute little pixelated homage to Mr. Dolby.
Just make sure you tell me what you want the blinkie to say (keep it fairly short), what sort of doll you want, colors, that type of thing, and I'll be happy to create pixel magic for you!
lol
EDIT: More boredom. I told you so.

-------------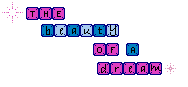 -------------